'Dr Dan and the Gris Gris Combo'
Dr Dan and the Gris Gris Combo fly straight outta the soul of New Orleans. Riding high on the wave of brass bands reinventing street music traditions, they gleam with parade precision and swing with alleyway spontaneity. Featuring some of Sydney's most kickass brass and jazz musicians, Dr Dan the Gris Gris Combo cooks up a hot, exuberant brew of old-school New Orleans brass band blended with R&B, funk, calypso and salsa. The legendary showman Dan Barnett brings smooth, liquid vocals to the Gris Gris Combo's driving rhythms and contagious grooves. Prepare to be transported and propelled to your feet when Dr Dan and the Gris Gris Combo does what New Orleans brass bands have been entrusted to do for more than a century – bring the people together and set their spirits free.
Dan Barnett - Trm/Voc, Louise Horwood - Tpt, David Theak - Sax, Paul Brown - Gtr, Sam Golding - Sous, Matt Moore - Drm

'Petulant Frenzy'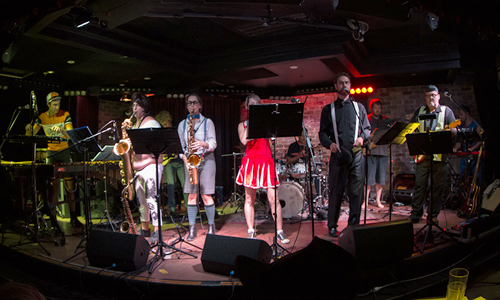 I have been resident drummer with this exuberant 10-piece Zappa tribute band since 2013. Some of the most incredibly challenging music I have played, but also some of the most fun!

"...you can't play at playing Zappa. You either nail it or you have a front-page train-wreck. Petulant Frenzy not only nails it, the band applies putty to make the nails invisible, and then daubs on a thick coat of fun ★★★★"
John Shand, Sydney Morning Herald review 10/12/17