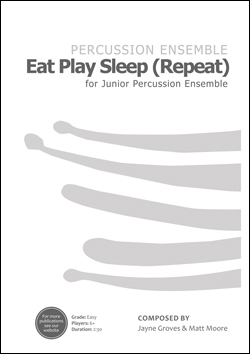 Eat Play Sleep (Repeat) – Easy Grade
(Drum Kit, Agogos/Cabassa, Bongos/Vibraslap, Congas, Tambourine, Floor Tom)
Players: 6+ | Duration: 2:30 | Published by Sticks and Staves
This lively composition was written as an item for an upper primary music camp where kids do nothing but Eat Play Sleep (repeat). The piece is rewarding for kids to learn, fun to teach and the resulting performance is always a hit with the audience.
more info....

Double Stacked – Easy Grade
Requirements: Chair parts - two chairs (plastic with metal legs) per player, Low drum - one low drum per player (floor tom / bass drum)
Players: 5-20 | Duration: 3:00 | Published by Sticks and Staves
A raise-the-roof novelty item for a percussion ensemble of 5-20 players. Also suitable for use as a whole class item, or a roving performance piece.
more info....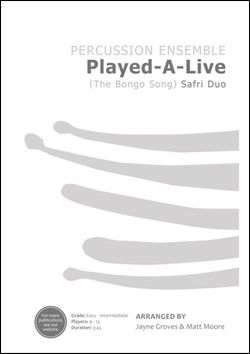 Played-A-Live – Easy/Intermediate Grade
Requirements: Bongos, Tom Toms [high-med high], Tom Toms [med low-low], Aux Perc 1 [splash cym, suspended 16" cym], Aux Perc 2 [Tambourine, triangle], Aux Perc 3 [Hi hat, pedal bass drum], Glockenspiel, Xylophone, Vibraphone, Marimba 1*, Marimba 2* [*may both be played on one instrument]
Players: 9-13 | Duration: 3:53 | Published by Sticks and Staves
This dynamic arrangement of safri Duo's Played-A-Live offers an exciting feature piece for large percussion ensemble.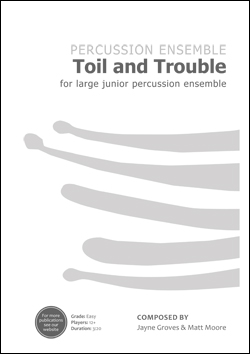 Toil and Trouble – Easy Grade
Players: 12+ | Duration: 3:20 | Published by Sticks and Staves
Commissioned in 2016 by SCEGGS Darlinghurst for their 'Shakespeare 400' concert, Toil and Trouble is an atmospheric and visually engaging performance piece for large junior percussion ensemble.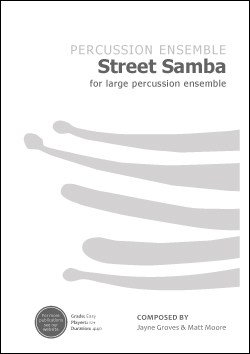 Street Samba – Easy Grade
Players: 12+ | Duration: 4:40 | Published by Sticks and Staves
This festive piece showcases Samba Batucada and Samba Reggae grooves, call and response work between repinique and large group, plus improvised solo.
The repinique part requires an experienced player, to lead the ensemble as well as improvise. All other parts are fully notated and suitable for both experienced and inexperienced players.
Guaranteed to raise cheers indoors or out, Street Samba is vibrant experience for players and audience alike.
more info....